CoConstruct's project search functionality lets you quickly and easily reference important details, conversations, and info for your projects in CoConstruct.
Without bouncing around to multiple pages or worrying about remembering exactly where something was said, you can search your projects to get all of the details right at your fingertips.
From the project's Overview page, or any other page within the project, look for the search bar at the top right.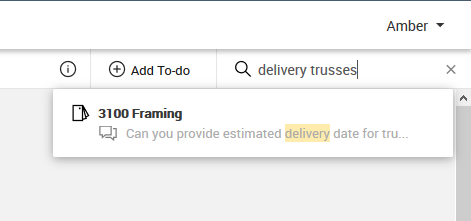 You can search these areas of your projects:
Comments

Messages

Specs & Selections

Schedule tasks

To-dos

Warranty requests

Change orders

Invoices

Job log entries

Bid requests and bid-related comments

Purchase orders

Questions
Just enter a piece of text to see all of the matching items from your project.
Clicking on a result will take you directly to the corresponding page so that you can view the full details in the overall context of the project and make any other quick updates as needed.
The search option is available to all of your builder team members from the full site but is not available on the client or trade partner sides of the site or in the mobile app.
Additional searching tips and info
While you most likely won't need to worry about the nitty gritty search details below, they may help you narrow down your searches to get the most out of this feature.

Your normal security settings apply, so if one of your team members cannot access a project or a certain type of information, the

search

results will not show those items.
Only the top 12 search results will be shown. If you don't see a result you are expecting with a generic keyword, consider adding more words to further narrow the search.
The top results are based on the number of instances of the keywords, and how close the words are together. Similar types of items are grouped together in results (e.g. search results that are for to-do items will be grouped together with other to-dos).
If you enter part of a word, the results will search for items that begin with those letters (e.g. typing "thr" would search words like "three", "thread", "throw", but would not return results for "bathroom")
The following special search characters can be used to additionally customize your searches.
If you want to search for...

Special Character

Example

Items containing all of your keywords

None
(default behavior)

tile color
returns items containing both "tile" and "color", such as "...what color are the tiles you picked out?"

Items containing any single one of your keywords

||
(2 vertical bars separating search terms)

paint||tile
returns items containing either "paint" or "tile"


An exact phrase

" "
(enclose your search in double-quotation marks)


"plan room"
will only return results that contain this exact phrase