Make sure that you've tailored your clients' experience perfectly with CoConstruct's preview client side functionality.
At any time, you can get a firsthand glimpse at what your clients will see on the job, regardless of whether you have added those clients yet.
Previewing the client side
Whether you're reducing the stress that you feel on your jobs by making sure your clients see exactly what you want them to see, or whether you are leveraging this to sell more via prospect projects, you can access the client side of the project by clicking the eyeball icon in the upper right of a given page.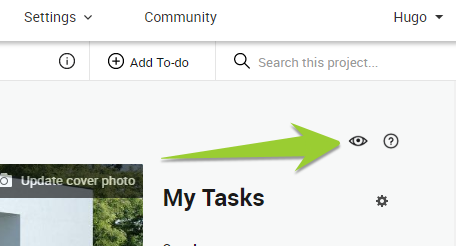 If you see a grayed out icon instead, you are on a page of your project that will never be available to your clients, and cannot switch to the client view from that particular page.
If you do not see any icons for previewing the client side on a non-archived project, you may not have the proper permissions or your project may be set up as a no-client project.
You will not need to have already added a client in order to start using this feature at any point on a project, making it a great way to confirm that you have set things up the way that you want to show them to your clients.
If you see a message that the current page is not visible based on current settings, you can visit your Project Setup page to edit the Client Access options.
When you enter the client-side preview, you will immediately see the client's view of the same page that you were viewing from the builder side. You can navigate throughout the project just as the client would at that point.
While you are actively previewing the project as the client
When you preview a project as a client, you can still make selection decisions, post messages, send comments, ask questions, and make all the changes that a real client would be able to make.
This can be very useful if you're working in the Training Home or showing off a prospect project to a potential customer, and for helping you understand your clients' workflow for entering their decisions.
But, if you are previewing an active job that also has clients logging in, making changes may be more problematic.
So, while you're previewing the site as the client, you will always see a warning at the top of your browser to serve as a reminder.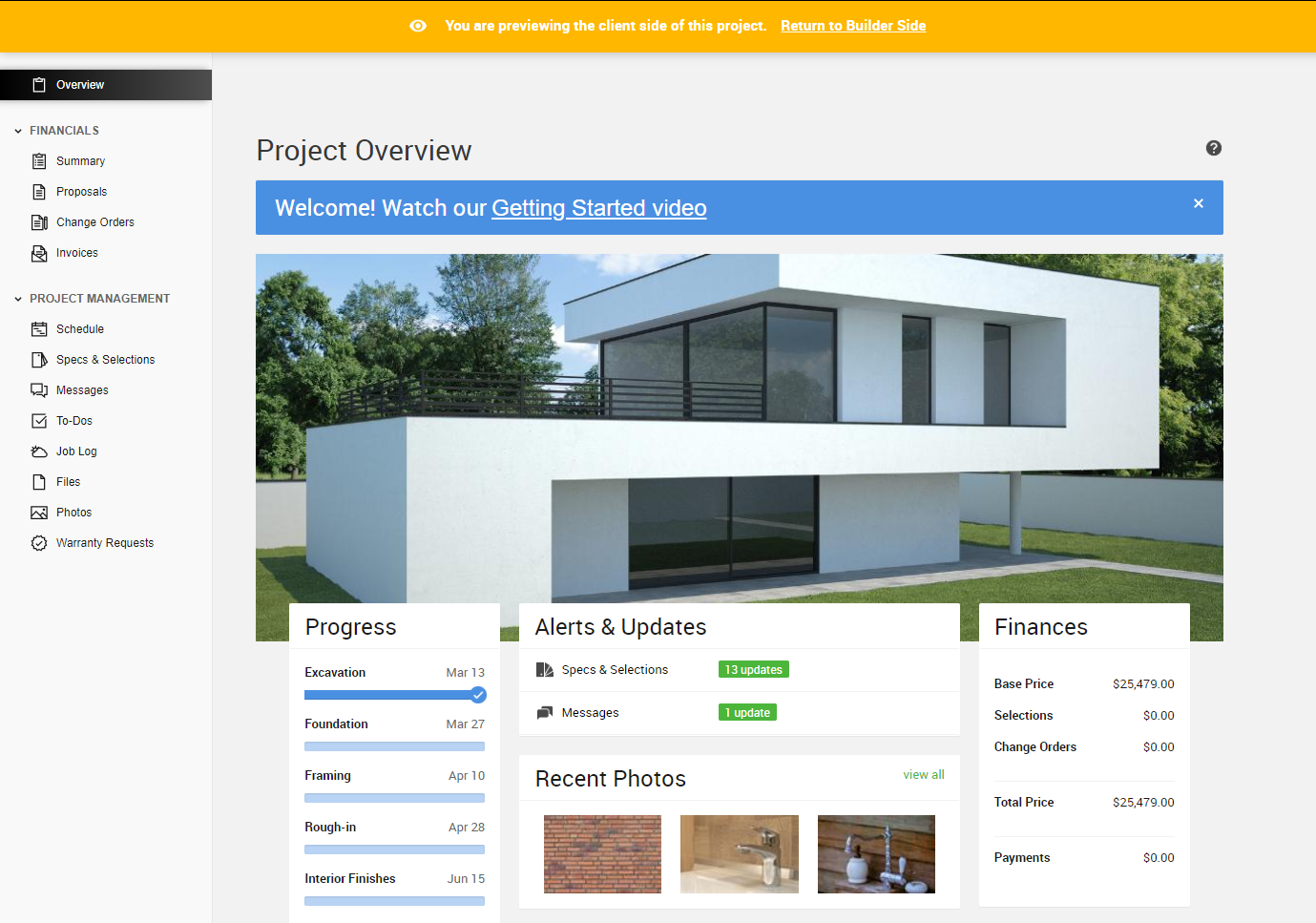 For the purpose of the "paper trail" and the change logs throughout CoConstruct, any changes you make or comments you post will be associated with a client named Demo Client. So, if you ever get in a dispute and want to confirm that the change was not made in accident during the client-side preview, look for the "Demo Client" naming in your change logs and comments.
Returning to the builder side
To return to the builder side at any time, simply look for the banner at the top of the page and click Return to Builder Side.
You will be returned to the builder view and you will be on the same page you were just viewing as the client.
Team member permissions for previewing the client side
In order to preview the client side, you must have permission to use this feature by the admin on your account. A CoConstruct admin can control and limit other team members' ability to preview the client side from the account settings page.
As an admin, head to the Contacts > My Team.
Click Edit on the right side next to the team member you want to change.
Check or uncheck their permission to Preview Client Side and save.
In order to preview the client side, your team members must also have the permission to View Financials turned on, since the client view of the site will inherently include certain project financials.
But, even with Preview Client Side permission enabled, any team members who can only access certain projects will only be able to view the client side on the projects they can access.
Other notes and special situations
When you preview as a client, any current changes that you haven't saved in CoConstruct will be lost. This may also happen if you are working in a separate tab of your browser than the one you are using to preview the client side.
Personal settings are visible, but not editable while previewing as the client. Note that you can always change these personal settings for your "real" clients from the Project Setup page on the builder side, but you will not be able to change the personal settings for your Demo Client.
Note: Client login access is only available on CoConstruct's Plus plan. Core and Standard accounts are enabled to give clients email-only access.