CoConstruct's Purchase Order feature lets you control your job costs by establishing firm commitments with subs and vendors.
You can leverage all of your other specification and financial data that you may have already entered within CoConstruct, ensure a convenient acceptance process for your trades who will be receiving the purchase orders, and sync verified purchase orders to QuickBooks to save time, and avoid double entry with your bookkeeping.
CREATING
In CoConstruct, you can create new purchase orders from scratch if need be, but to really let CoConstruct's completely integrated financial system work to your benefit, you can save time and create a new purchase order directly from bid or estimate details that you have already built.
If you start from an estimate or bid, it's not just the financial details that you'll save time in building, though, all of your detailed specification information and any inclusions/exclusions you've detailed will flow through into the new document. Many of the various components come pre-populated with data you've already spent time building.
By auto-populating a new purchase order, you can release it to your vendors for acceptance in no time at all.
Purchase orders access/permissions: This purchase orders view is only visible to your team, and even then, it will only be visible to team members who have access to the specific project, and who have View Financials permission. Team members must have Edit Financials permission in order to create new purchase orders.
TRADE PARTNER EXPERIENCE
As you release purchase orders, you can have CoConstruct automatically email the information to your trade partners and get their electronic acceptance.
Your trade partner can review files, scope of work details, line item information, inclusions, exclusions, and terms & conditions, then click to accept the documents directly from the comfort of their email inbox. That means no training to introduce your subs to a new system and no juggling forgotten passwords from your subs just to get your purchase orders accepted.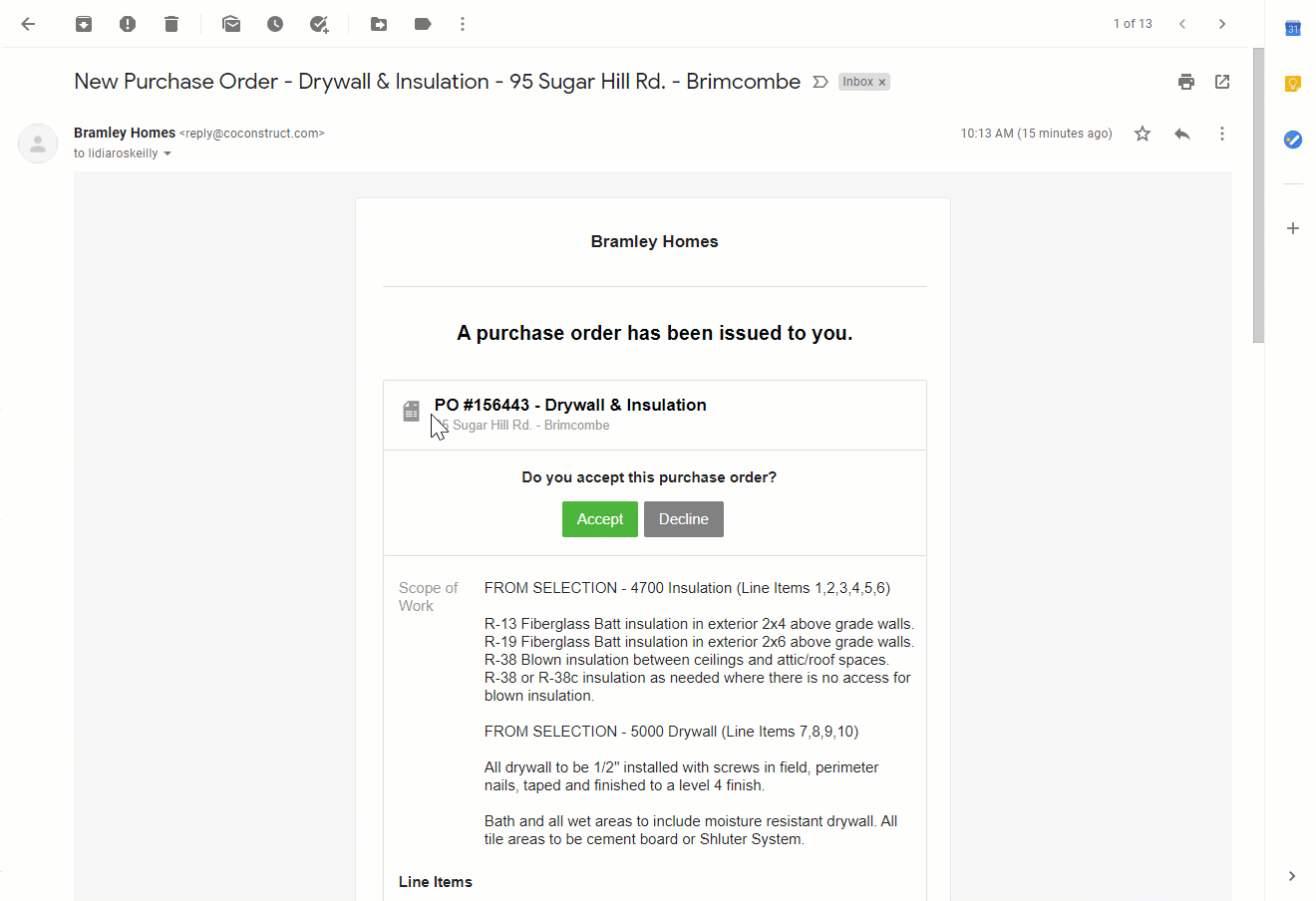 All of that emailing and digital sign-off is optional, though, so if you prefer to print out a professional-looking printer-friendly document to hand to your trades in person, you can still mark each purchase order accepted within CoConstruct to keep track of where everything stands.
Pro Tip #1:
If a purchase order is sent to a partner with an expired certificate, CoConstruct will display a warning before the purchase order is released.
COMMUNICATION
When your partners get an email notification of a new purchase order that has been issued to them, they can simply reply to the email to post a new comment or ask questions about the work to be completed.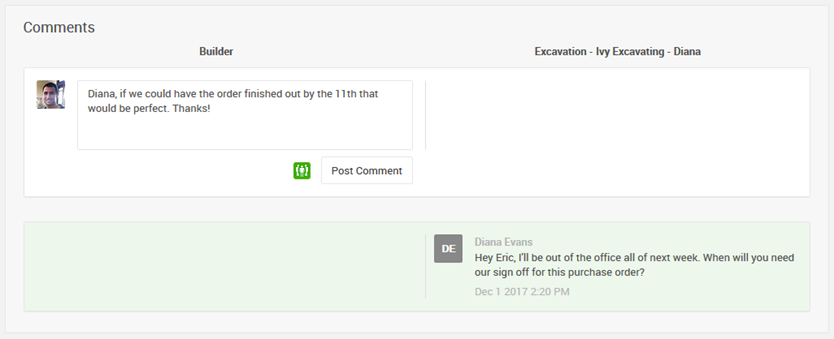 All of that communication is tracked and organized within each purchase order, and is searchable within all of your other project communication using the search option in the upper-right of each page of your project.
MANAGING PURCHASE ORDERS
After clicking in to view a purchase order, you can manually update the status by clicking a new status at the top of the page. While many statuses will update automatically as your team and vendors interact with your purchase orders, you can use this to denote purchase orders where the work has been fully or partially completed and Billed and purchase orders where the work has been verified by your team and you are Ready to Pay.
Your vendor bills received and payments can be logged to the purchase order at any time after it is released, and once the full amount has been accounted for, the status will update accordingly.
If you are integrating your purchase orders with QuickBooks, though, all of that will happen automatically for you when you pay your bills in QuickBooks.
With your CoConstruct account linked with QuickBooks, you can save time, ensure complete accuracy between CoConstruct and your accounting software, and provide an easy reconciliation for your bookkeeper to confirm that any bills you receive match up with the purchase order amounts.
As you enter bills against your purchase order, each bill will be independently marked as Ready to Pay when that part of the work has been verified by your team. CoConstruct pushes the right information to QuickBooks to create bills for those associated amounts, and even reads whether the bill has been paid -- so you always have the information you need when talking to your subs and vendors, without making your bookkeeper change where he or she is doing the bill paying.
VARIATIONS
Of course, things happen, despite the best plans going into a job, so CoConstruct also lets you account for purchase order variances. Create a new variance PO, associate it with an earlier document, and apply a code to help you keep track of the areas where you are consistently going over budget.
REPORTING
Quickly and easily access where project purchase orders stand right from the project's Purchase Order page.
Here, you can filter you purchase orders by status, partner, and easily distinguish between your variance purchase orders and your original purchase orders.
See purchase orders spanning multiple projects through Reports. Look at all project purchase orders at once, or filter down to specific projects as needed. Leverage reporting on variance codes using the Variance Purchase Order report.