During the course of a project, it may be necessary to reassign a schedule task to another team member or trade partner. Easily reassign tasks in the schedule to another user with a few simple clicks.
Reassign Individual Tasks
Assign tasks individually from the Field Update, Gantt, Calendar or Task View:
Field Update View
Click the name of the task you wish to reassign.
Remove the existing assignee by clicking X.
Add a new assignee to the task by cliciking Add an assignee or Add another.
Save and Publish.
Gantt/Task View
Find the task in the list.
Click in the Assignees column of the task.
Click the X next to the assignee you wish to remove.
Click the drop down box to select the new assignee(s).
Save and Close.
Publish changes at the bottom of the schedule page once you're finished updating any tasks.
Calendar View
Find the task in the calendar you wish to edit.
Double click the task to open the task edit window.
Click the X to remove the existing assignee.
Click Add an assignee or Add another to add the new assignee to the task.
Save.
Mass Reassign Schedule Tasks
Mass reassign all of an assignee's tasks from the Gantt or Task View. In instances where you need to switch to trades or team members who will be working on a project, this is a great feature to quickly reassign tasks within a project's scheduled.
First, click on the Reassign icon the in the schedule toolbar:
Then, select the current assignee you're removing from the project and the new assignee taking over their tasks: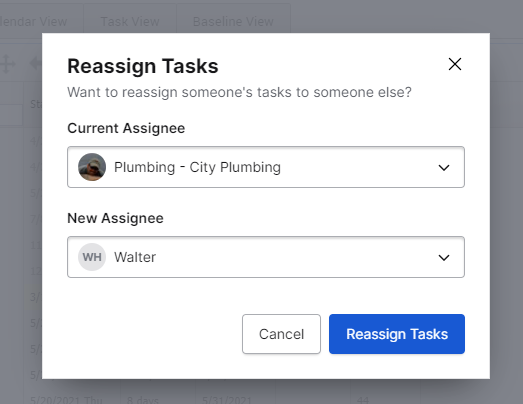 Once you're finished making any necessary reassignments, republish the schedule.
With the ability to reassign tasks in CoConstruct, you'll be able to remain flexible and make on the fly adjustments to task assignments whenever necessary.