There are many ways to show your clients and trade partners how much your online system will help them out during the building process. These points will go a long way toward helping you grow your customer base with CoConstruct, while saving time and money in the process.


Show CoConstruct to your prospects
We also highly recommend giving your prospects a first-hand view of CoConstruct. Take them on a tour of an existing project account or add them to a free prospect project. Most CoConstruct plans include access to unlimited free prospect projects that you can use to show your client just how committed you are to their custom project. With your prospect projects, you can set up specs and selections, create a schedule, communicate with comments, post plans for your trade partners, and more.
Learn More: How & When to Use Prospect Projects
Use CoConstruct as a sales tool and continue to engage your clients after they sign up
First, sell CoConstruct to your prospective clients in a way that will help you stand out from the competition:
Learn More: Using CoConstruct as a Sales Tool
But don't stop there! Remember to make sure your customers are continually engaged and using the system throughout the process:
Learn More: Getting Clients to Communicate via CoConstruct

Get your Trade Partners on board with CoConstruct
While your subcontractors or vendors have different priorities from your clients, the clean communication and organization are the key points to emphasize. With instant alerts, summary emails, and the mobile app, your trade partners will have easy access to all of their assigned tasks and relevant information to get the job done. If your trade partners have web access, all of this information will be in one convenient place for easy reference from the job site.
For trade partners who are wary of a new system, point out that much of their communication with you can still be done via email. They don't have to login to CoConstruct to comment on or confirm a task assignment, or to reply to a comment you include them on. They can do all of that simply by replying to the email notifications from CoConstruct.
Plus, they can even post files for you by including attachments on these email replies, giving them a way to interact with you without logging in.
Here are examples of a trade partner's task assignment and a comment that included a trade partner:
Work Request: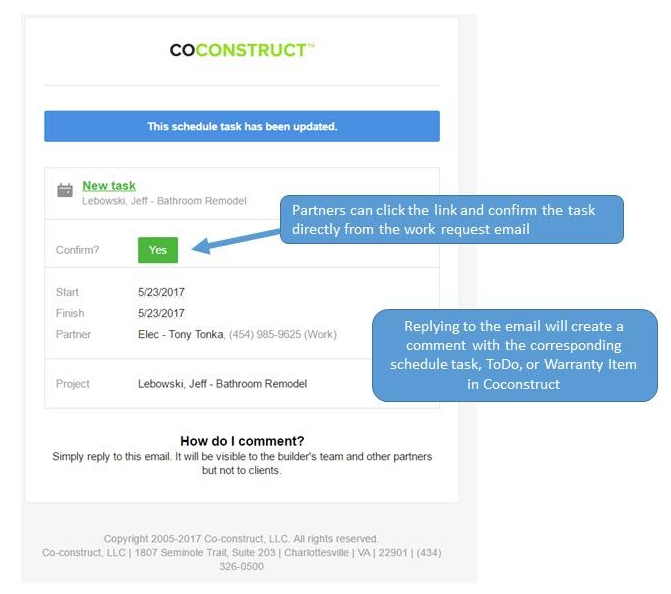 Comment: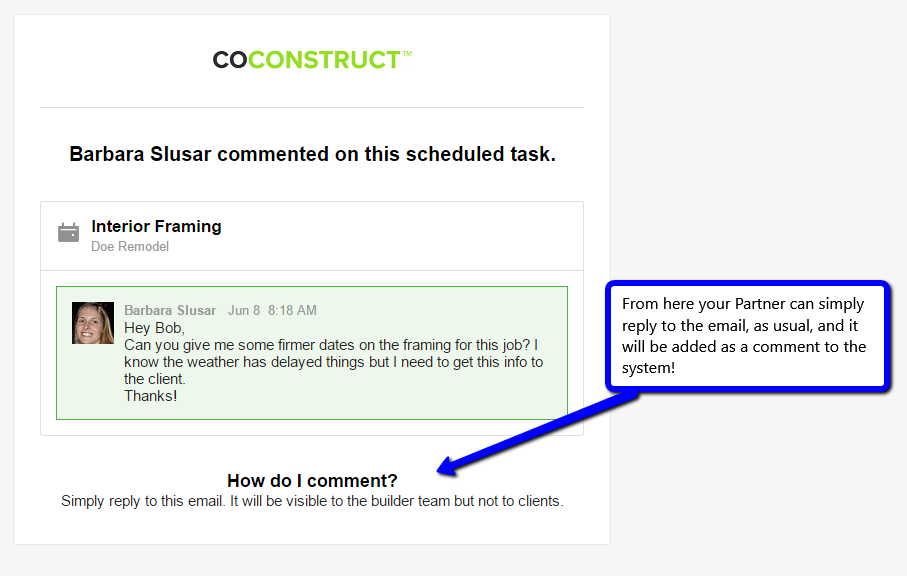 Finally, consider talking directly to your trades, particularly those that you communicate with most often, about the use of CoConstruct to help manage your projects.
Learn More: Quick Start Guide for Subs & Vendors