You can seamlessly transition your lead into a CoConstruct project by creating new projects directly from the Leads or Contacts areas of CoConstruct.
Whether you're closing the sale or setting up a free prospect project to help reach that point, you will see options at the bottom of the lead or contact page.
Simply use the "New Project" button on a contact or the "Generate Project" button on an opportunity to start the process.
If you're tracking Opportunities, you'll want to create the project through that option so that your records indicate which opportunity the project is linked to. This is especially helpful if you do repeat business or are working with a client with multiple open projects or opportunities.
Note: Lead Management tools like opportunities are only available on CoConstruct's Standard or Plus plans. Core users can still generate projects from the Contact record.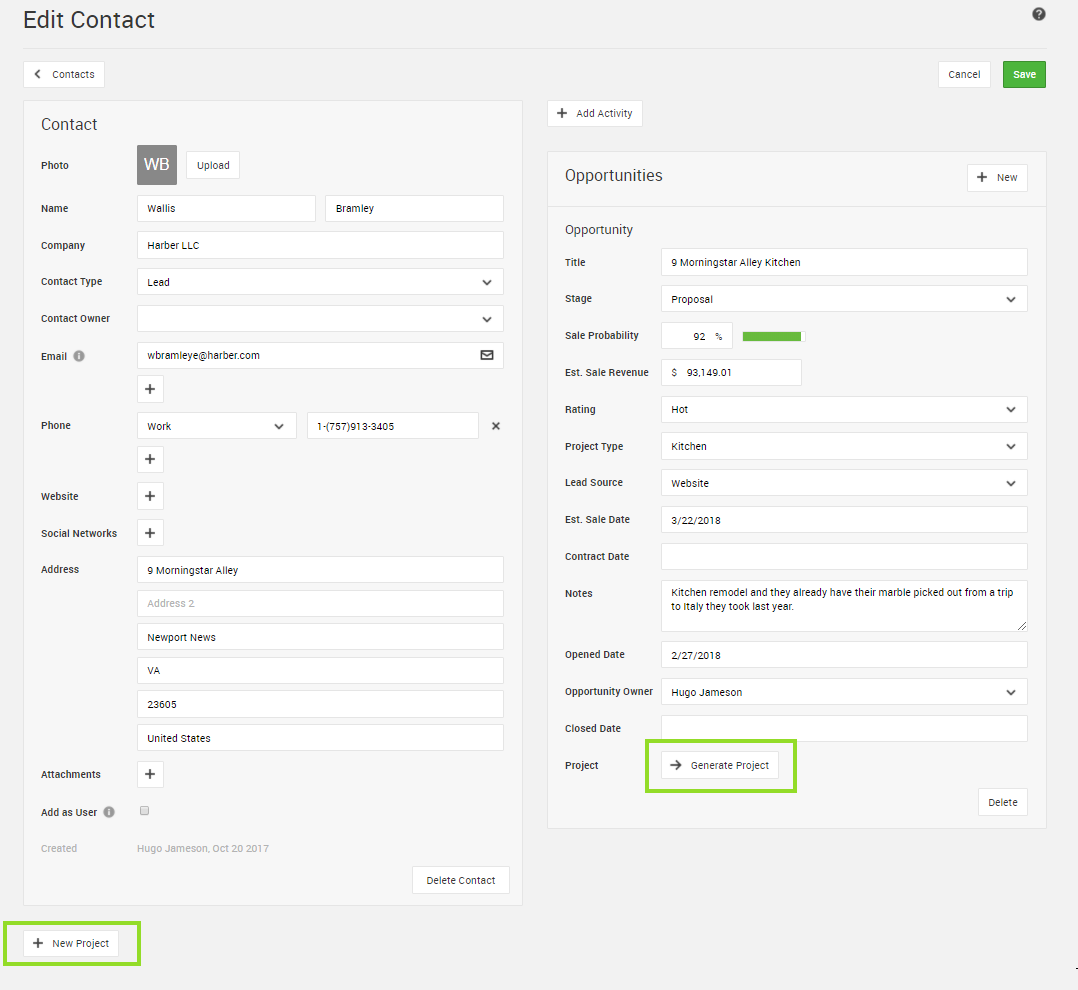 If you have an address entered for your contact, you'll be asked if you want to copy the contact's address to the project.
You will be taken to a page where you will fill in the other important project details before finalizing your brand new CoConstruct project.
When you pull up the lead or contact at any point after that, you will see if he or she is tied to the project.
Giving CoConstruct access after creating the project
When converting a lead or contact to a project with the above process, your project be set up and linked with them.
When you're ready to turn on communications with the client and/or give them access, just come back to the project setup page and select the appropriate option to send the invite.
Once you save the page, CoConstruct will automatically send a welcome email.
Until then, though, you can keep all of the contact details neatly organized and associated within the project without turning that access on.
In the project info (

icons), you will see an "Access: Off" notice to call your attention to cases where a client is associated with a project, but without access.
Clients without access are not notified of the lack of access. Without access your clients cannot login to the main site or mobile app, cannot receive system notifications, and cannot interact with any of the pages or features in the site.
Note: Client Login access is only available on CoConstruct's Plus plan.