CoConstruct's scheduling feature allows you to build out your project's schedule, assign tasks to trade partners and team members and communicate with those individuals to keep your job on track.
Building your schedule from scratch
To add and edit tasks in the schedule, you'll want to work from the Gantt or Task View
Using the "+" icon at the top left of the task list, add tasks into your project's schedule
Double click the task name, dates and duration columns to set the appropriate information for each task
Right click on a task name for options to input sub-tasks or tasks directly above or below and existing item in the schedule
From the Gantt view, you can also adjust the schedule using the blue task bars on the right hand side
Be sure to "Publish" your schedule or use one of the other options at the bottom of the page to save your work
Once you've built out your first schedule from scratch, save it as a template to use for future jobs!
Using a schedule template
To start building your schedule from a template, navigate to the project that you're building the schedule for > Schedule > Gantt or Task View > select the "Copy Template" link at the top right.
Choose the option to Replace Schedule to bring in your template.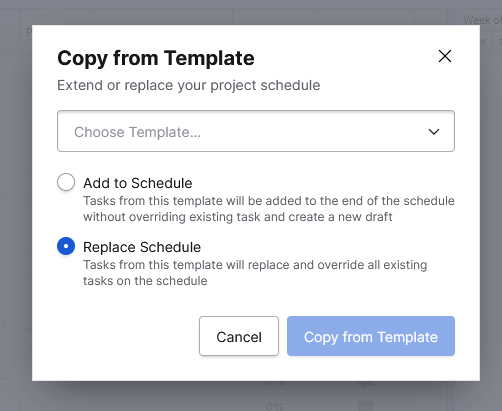 If you have separate schedules for design and build or bathroom vs. kitchen remodels, you can return to the Copy Template link and choose Add to Schedule to add another template to the bottom of the existing schedule.
After bringing in your schedule templates, you can utilize the steps above to customize your schedule for this project!
For more information on schedule templates, view our training video here.
Other Scheduling Resources
For additional details on adjusting your account settings for when trade partners and team members receive notifications, you can view these additional resources on our Help Center:
Advanced - Other Scheduling Settings
Communicating with Trade Partners - Setup
Communicating with your Trade Partners - Tasks